It's hard to miss semi trucks. After all, they are the giants of our roads. They keep shelves stocked, vehicles fueled and businesses going strong. On the outside, they're one of the most visible symbols of a healthy economy.
And yet, there's much more happening on the inside of a semi truck. Under the hood, there is a constant, invisible evolution at play. An evolution that's quietly improving diesel engine efficiency, lowering total cost of ownership for fleets and powering commerce with cleaner diesel technology than ever before.
So let's take a look at Detroit's legacy of diesel innovation. Here are five of the most significant advances that we've made over the past 80-plus years:
1. The Series 53, 71 and 92 Families
Powering Commercial Trucking to Greater Lengths
At Detroit, innovation runs deep. It's a legacy that goes all the way back to 1938, when General Motors formed the GM Diesel Division and supported the construction, mining and military sectors with two-cycle diesel engines.
One of the first great strides in diesel engine technology was made in 1957 with the launch of the Series 53. This reliable, two-stroke engine opened up vast opportunities for a range of commercial trucking applications. Built for the open road, it offered greater performance, fuel efficiency and durability than previous generations of two-cycle engines.
Soon after, the two-stroke, V-type Series 71 began to find solid use in long-haul operations. And in 1974, the Series 92, which was built on the 71's core design, was released to meet the increasing demands of  heavy-duty and long-haul trucking.
2. The Series 60® (1987)
Activating New Possibilities with Electronic Controls
The Series 60 took diesel engine technology even further. As the first diesel engine to feature electronic controls, it offered easier serviceability and helped lead the industry toward a more fuel-efficient, lower-emission design. What was once a next-generation advancement quickly became a trusted standard throughout the 1980s. Evidence of its popularity – and longevity – can be seen in those who run older-model trucks today.
3. Engine Aftertreatment Technology (1990s)
Leading the Way to Lower Emissions
Emissions control has come a very long way over the last several decades, with groundbreaking advances in engine and exhaust aftertreatment systems. While emission control systems have become the industry standard for diesel engines, our engineers have also made strides in reducing their impact on daily operations.
The new Detroit Aftertreatment System (ATS) does more with less. The system features a single, large Diesel Particulate Filter (DPF) with Asymmetric Cell Technology for increased service intervals. Asymmetric injection activates as an engine warms up and prolongs the life of the ATS by increasing heat when necessary. Detroit engines also offer ThermoCoast – keeping temperatures up during low load driving, expediting the regen process and reducing time and energy previously spent on the ATS.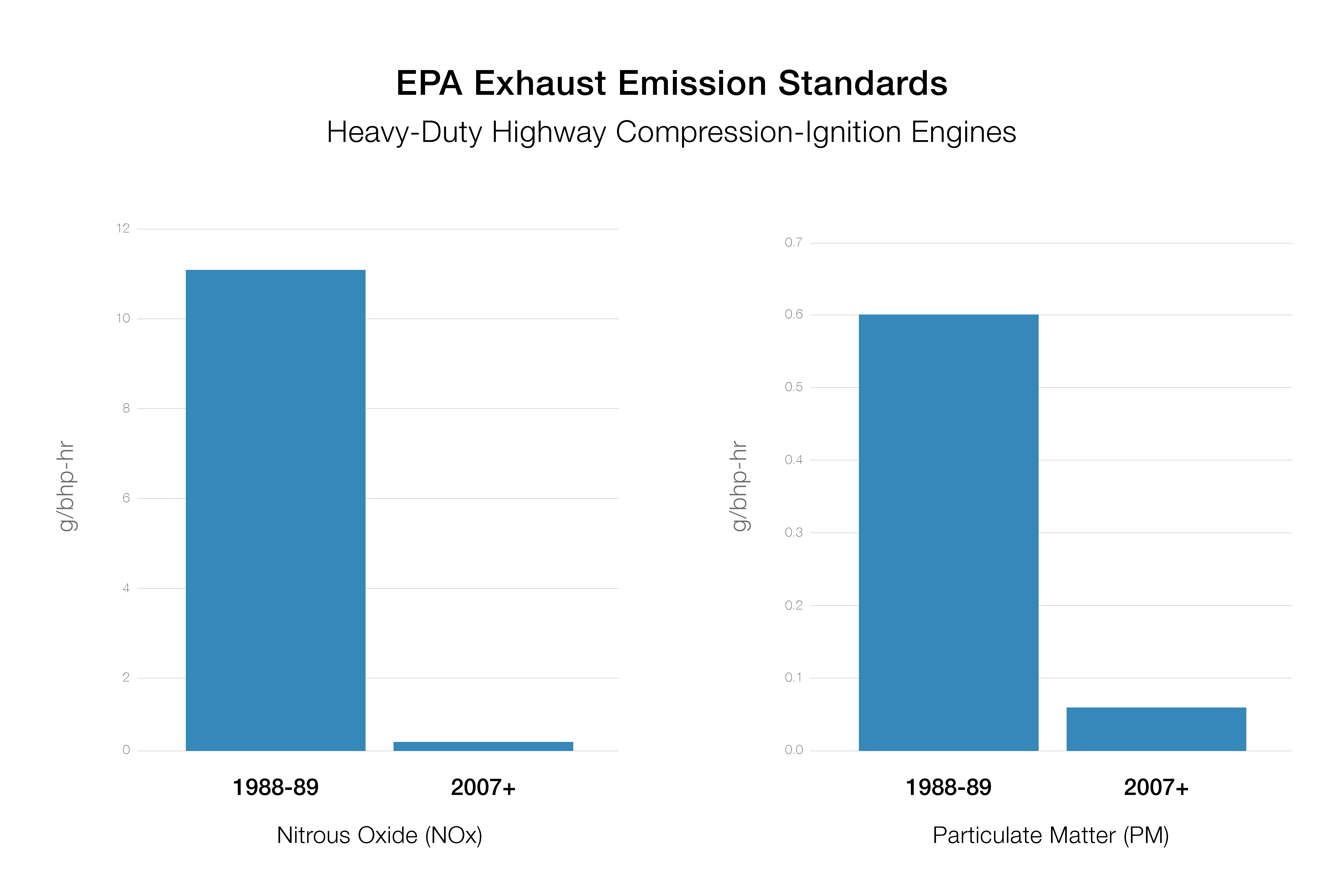 Since the late 1980s, EPA limits for two key emissions constituents, nitrous oxide (NOx) and particulate matter (PM), have decreased by 98%. As regulations continue to evolve, Detroit is committed to staying out in front and leading the way to an even cleaner diesel future, meeting not only the letter of the law, but also the spirit of it.
4. The DD15® Engine (2007)
Building a Global Diesel Foundation
The DD15 kicked off the DD engine lineup with a completely reimagined engine, fuel, air and aftertreatment system design. With even better fuel economy, reliability and durability, as well as significantly improved emissions, the DD15 set the standard for diesel technology, introducing more than one million engines across the globe on its platform.
5. The DT12® (2012)
Changing the Game with Connectivity
The DT12 marked a significant step forward in truck-engine connectivity, allowing for improved diagnostics and maintenance as well as seamless integration of safety systems. Greater connectivity also marked a significant step forward in performance and paved the way for the Integrated Detroit Powertrain.
Diesel: A Vital Part of a Cleaner, More Efficient Tomorrow
At Detroit, the past is full of diesel innovations. And so is the future. Ever-cleaner commercial vehicle technology and reduced total cost of ownership will continue to play a crucial role in the evolution of how semi trucks drive commerce. So, when you think about tomorrow, you might wonder: is it diesel or electric? The answer is "yes" – and we're ready to advance the industry on both fronts.
Innovation. It's a Job That's Never Done.
Efficiency. Performance. Reliability. These are the qualities that have defined Detroit craftsmanship and technology for the past 80-plus years. And they are what continue to make our lineup of heavy-duty engines the industry leader today. Looking back on the past, one thing is clear: innovation isn't a collection of milestones to hang your hat on. It's a journey of constantly working to discover what world-powering technologies lie just around the corner.