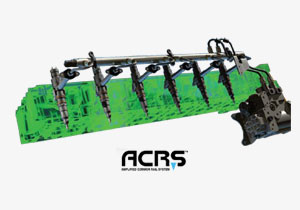 The next generation of DetroitTM Amplified Common Rail System (ACRS) is designed to improve performance and fuel economy through higher pressures (up to 38,000 PSI) and more precise delivery of fuel for your diesel engine. This robust new system also optimizes diesel particulate filter (DPF) regenerations through improved combustion control to extend regeneration intervals. Higher injector pressure and optimized combustion control allows the ACRS to deliver the exact amount of fuel at the right time.
Now more than ever, Detroit's Amplified Common Rail Fuel System (ACRS®) improves performance by cutting emissions without draining fuel mileage or power. It improves throttle response while helping to lower emissions, noise, vibrations and fuel consumption.
Visit our website to learn more about our ACRS as well as other ways to improve fuel economy.