More efficient engines. A world-class manufacturing facility. Decades of pushing the limits of what's possible. When you put it all together, you get a commitment to sustainability that benefits the planet and your bottom line. See how Detroit® makes both a reality.
SUSTAINABLE MANUFACTURING
Sustainability begins on the factory floor. Here's a quick look at how we use fewer resources and help the world move more efficiently every day.
Detroit: Where sustainability is built
With 130 acres of space and more than 3,000 employees, our Detroit manufacturing plant has a significant positive impact on our local community and beyond. We commit to sustainability in everything we do. As you might expect, it's not as easy as replacing an old light bulb with a highly efficient LED – or, in our case, hundreds of them.
We've adopted a broad range of sustainability practices, from detailed energy reduction efforts to comprehensive recycling programs. In fact, our Detroit operations are nearly landfill-free. Our waste reclamation efforts help us recycle or repurpose more than 23,000 tons of material – more than 95% of waste, like wood, metal and plastic – per year.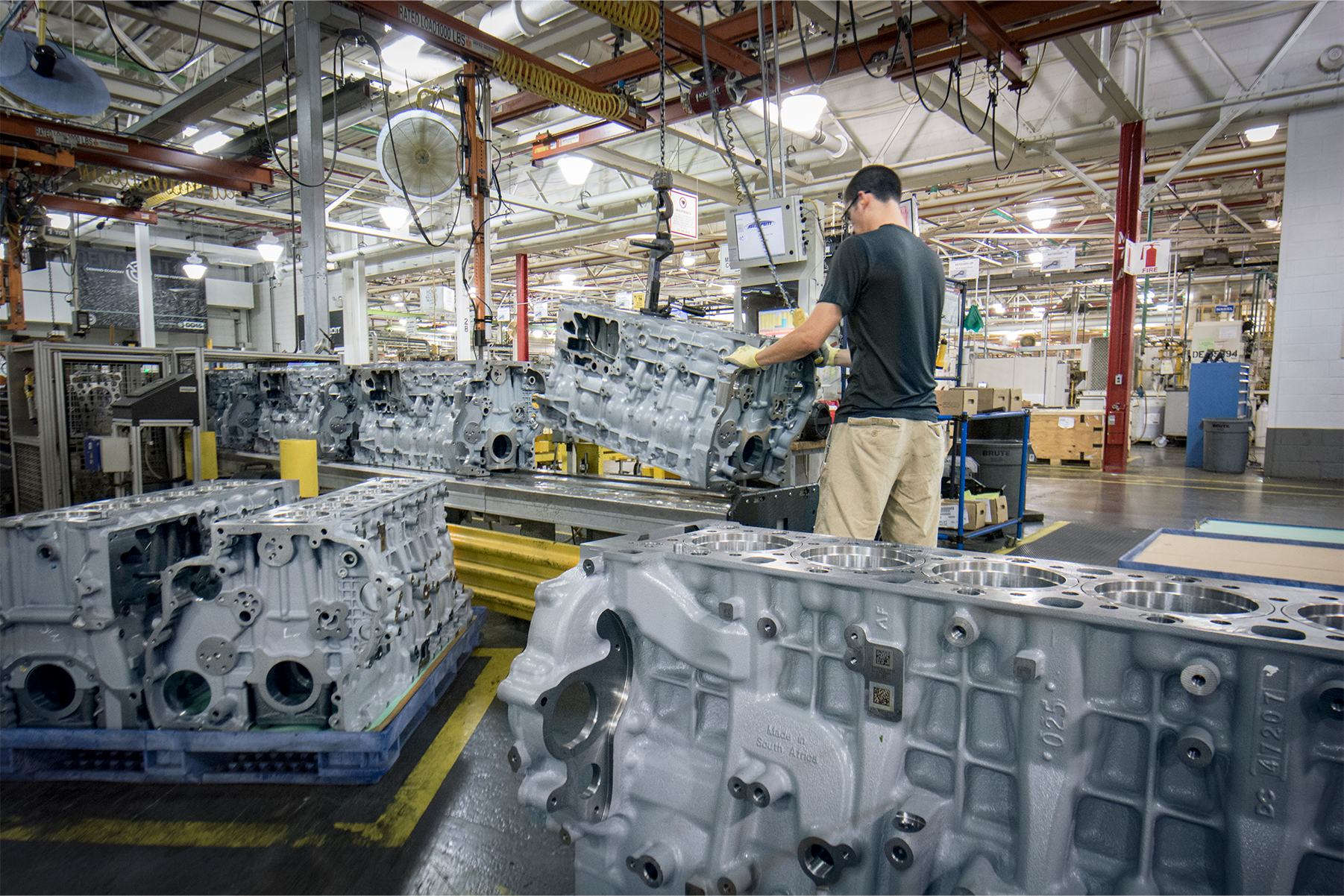 Industry recognition
Our decades-long commitment to sustainability has been recognized across the industry. In November 2021, we again achieved an ISO 50001 certification and the U.S. Department of Energy's Superior Energy Performance certification, placing us among a small group of Platinum organizations. This recognition acknowledges Detroit's efforts to save money and reduce carbon emissions by using strategic energy management (SEM) systems based on the ISO 50001 global standard.
We were also recognized in 2022 by DTE Energy with the Education Energy Efficiency Award to highlight our multi-year efforts to building our SEM systems and educating employees about energy conservation at our plant.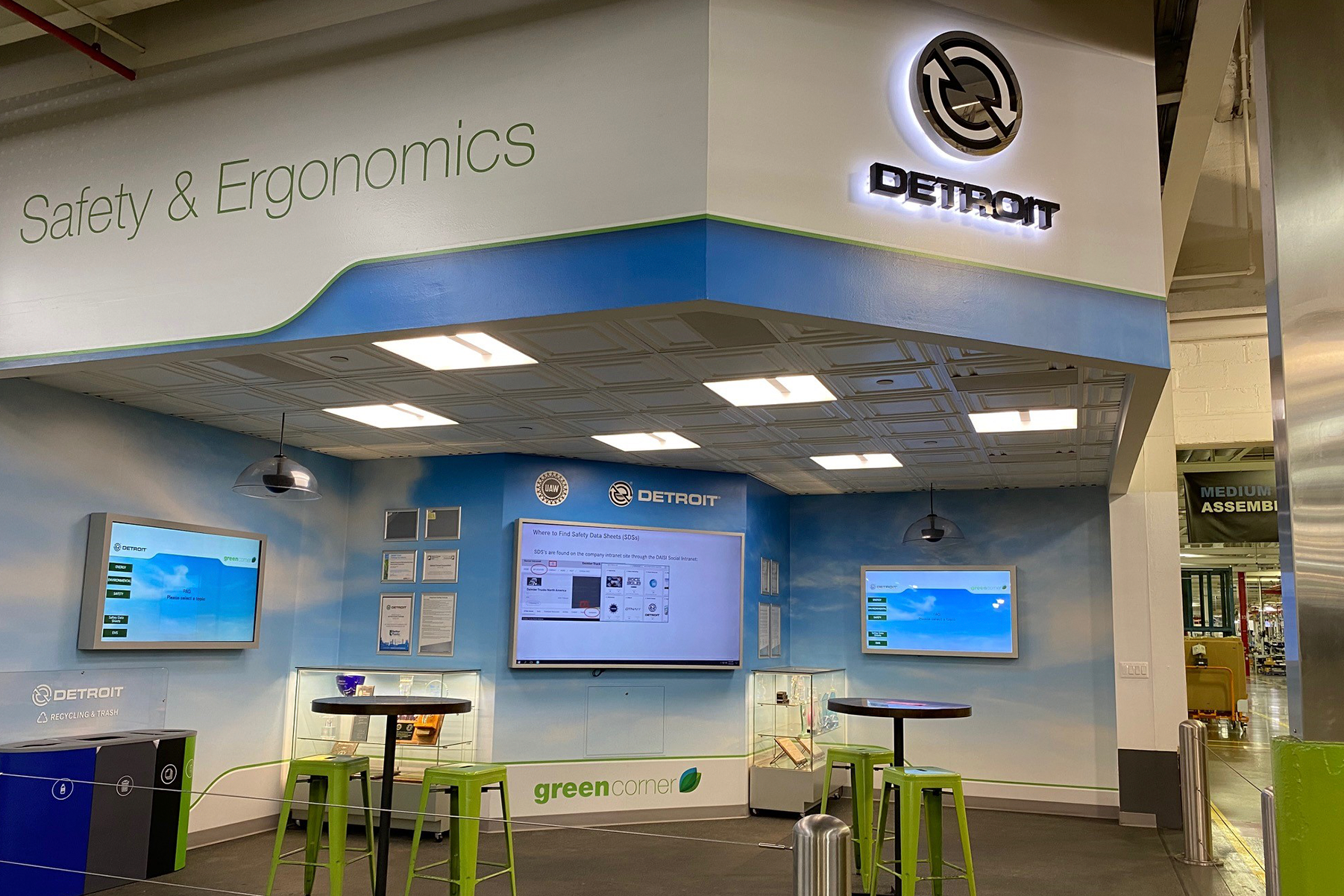 The Green Corner is an interactive space that's designed to educate employees about our plant's energy conservation measures and future projects.
The road ahead
We've made a lot of progress in the world of sustainability, but there's still a lot of work to be done. Daimler Truck is working toward becoming carbon-neutral by 2030, while Daimler Truck North America is on track to make all its manufacturing facilities carbon-neutral by 2025.
These goals have helped the Detroit plant define its own sustainability targets. By 2028, we plan to purchase 100% of our electricity from renewable sources. Right now, that number stands at 15% – and it's growing fast. In 2023, we have our sights set on 25%. We're looking at even more ways to reduce energy use as well, like renewable natural gas options and diesel offset activities, such as planting trees.
SUSTAINABLE PRODUCTS
When it comes to sustainability, the proof is in what we build. Here are just a few of the ways we make your business more efficient today with products made for tomorrow.
The Detroit DD15 engine: A platform for sustainability
With 28% market share, Detroit is the leading truck engine manufacturer in the U.S., and a big portion of our success comes from the Detroit®DD15® platform. But the DD15 isn't just an engine – it's a foundation for five generations of innovation. When we originally launched the DD15 engine in 2009, we designed it not just for the demands of the time, but also for technologies that didn't even exist yet, allowing us to stay well ahead of emissions regulations and customer expectations about efficiency and performance.
The longest-lasting heavy-duty truck engine
In addition to being built for the future, the DD15 Gen 5 also has the longest B50 life of any heavy-duty truck engine: 1.2 million miles. An engine's B50 life is the average time it takes 50% of a certain engine type to require a major repair – a measure that's also known as "average life to overhaul."
Beyond featuring reliable, time-tested designs, Detroit engines like the DD13® Gen 5 and DD15 Gen 5 consume a low amount of oil, which helps keep them efficiently powering commerce for decades. Detroit engines also have some of the longest service intervals, with some even pushing 70,000 miles in long-haul applications.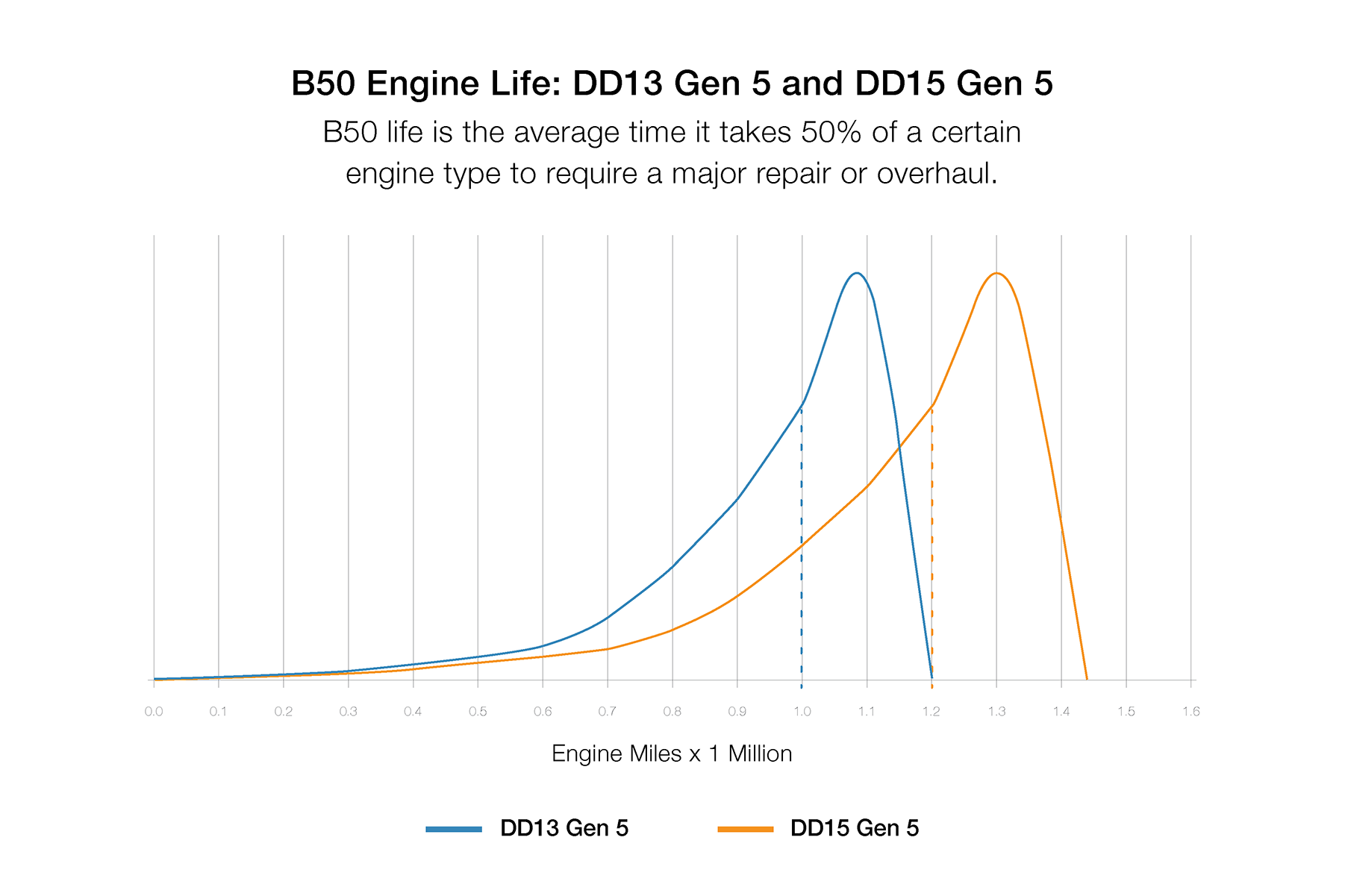 B50 life is the average time it takes 50% of a certain engine type to require a major repair or overhaul.
Always improving
Over the last few decades, semi truck efficiency has come a long way. In fact, the average truck today produces approximately 60 times fewer emissions than a truck from 30 years ago. That's amazing progress, and a win for the whole industry.
It is this success that motivates us to be even better and push our standards every day. Our goal is to improve the fuel economy of our engines by about 5% every two to three years. In fact, over the last 7 years, we have improved the fuel economy of the Detroit powertrain by a total of 13%. For an average long-haul truck, that equates to approximately 2,000 gallons less fuel per year – and significant savings.
Diesel and electric: Delivering practical sustainability to the world
Our world still demands a thoughtful balance of zero-emission and diesel innovation. Throughout the next decade and beyond, we have our sights set on making supply chains, and your business, move even better with the perfect blend of both.