We're going to be talking a lot about the new DD15® engine here in the coming months. That's because this engine is ushering in a new era of reliability, durability, and performance. Reliability is the ability of a system to perform and maintain its functions in routine as well as in hostile or unexpected circumstances. Durability is the ability of a system to endure. The DD15 delivers on both fronts. As far as performance, the DD15 not only allows for great fuel economy, but also remarkable drivability. It's responsive, quiet, and smooth.
The features and benefits of the DD15 are numerous, but let's start with some of the major game changers.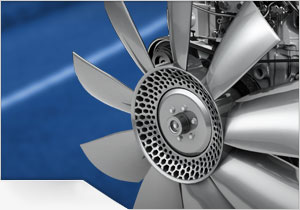 The new Proprietary Asymmetric Turbocharger reduces weight and complexity to deliver improved performance over other turbo designs. This patented in-house design is more optimally matched to the Exhaust Gas Recirculation (EGR) system to give you the best real world fuel consumption and performance.
The Next Generation ACRS Fuel System improves both performance and fuel economy by optimizing DPF regenerations through combustion and control to extend regeneration intervals. It provides even higher fuel injector pressure compared to last year's version of the DD15.
Our Fuel Filter Module simplifies serviceability by using an updated design featuring a two-filter system.  This allows for a longer service life with change intervals extending out to 50,000 miles. Serviceability has also improved, with easier access to the water drain and fewer priming strokes.
The Variable Speed Water Pump utilizes the viscous clutch between the pulley and impeller drive to reduce impeller speeds for parasitic load reduction. This makes it more efficient than a traditional gear-driven design.
An Optimized Piston Design reduces friction and minimizes oil consumption, leading to improved durability and fuel economy. It also utilizes a carbon scraper ring to reduce carbon build up at the Fire Ring Groove—giving you more consistent engine performance over the life of the engine. The DD15 meets 2013 OBD (OBD13) and 2014 Greenhouse Gas (GHG14) regulations.
The new Reduced Flow Oil Pump also helps deliver greater fuel economy with an improved design, reduced weight, and functionality that helps reduce parasitic load on the engine.
Updated Engine Electronics contribute to improved engine control and help meet compliance standards. An example of this would be the DDEC® engine controls that adjust to driving conditions and respond immediately to your commands.
Another benefit is the Weight Savings. The DD15 has a weight of 2,763 lbs., an over 100 lb. reduction compared to its EPA10 predecessor.
Finally, avoid or reduce your truck downtime with Detroit Virtual Technician™, our onboard diagnostics system that lets you know how serious a fault code is when you're on the road. It notifies you of where the nearest part is located, when you can get into the next available service bay, and can even schedule your repair appointment for you.
As you can see, the new DD15 is redefining the road. Our engineers re-examined then re-designed many features of the DD15 to reach this new standard. Open the hood of the Freightliner Cascadia Evolution truck and you'll find an engine that delivers amazing performance, durability, and reliability.